Juicedbikes CrossCurrent X jolts your e-bike commute into the fast lane
Juiced Bikes is looking to energize the commuter experience… in more ways than one. Electric bikes are already a fantastic way to navigate crowded cities. Avoiding long delays from public transportation and zipping around traffic is just the beginning. Despite being motorized, research suggests that e-bike riders actually enjoy similar health advantages as traditional cyclists. Juiced Bikes squeezes all of this and more into their latest ride. The CrossCurrent X Ultimate Commuter Bike elevates any commute into a fun, affordable ride. Let's examine what makes this latest product an instant hit.

Athletically designed e-bike that offers a comfortable commute
The CrossCurrent X Ultimate Commuter Bike chisels out a striking appearance. Unlike the brand's other models, this bike ditches the trendy, fat tires for a more athletic design. Remove the battery, and it resembles an upscale, traditional bicycle.

Yet, it's more than just appearance. Comfort is at a premium. The ergonomic grips come standard, adapting to fit each rider's fingers and palms. The Lookin Selle Royal gel seat provides support and extra padding to power through longer rides. The sturdy, upgraded fender package and water-resistant headlights also promote off-road and night riding. Choose from matte black, glossy red, or brushed aluminum finish. In addition to these color options, riders can also choose from one of three sizes for the ideal fit.
Crosscurrent X: Ultimate Commuter Bike
as of May 15, 2022 2:58 pm

Powerful battery (52 volt) with a 80+ mile range

While these features make for a sleek look and feel, an electric bike is only as strong as what's powering it. And, the CrossCurrent X Ultimate Commuter Bike packs a punch. The huge 52-volt, 19.2 amp-hour battery is far superior than most of its competitors and can travel up to 80+ miles before emptying. However, the battery does have some drawbacks. In addition to taking longer to charge, the size leaves little room for tote bags and makes the entire bike a beefy 65 lbs. The motor is perhaps the biggest standout. The bike includes a 750W custom Bafang motor, which is the largest allowed on U.S. public roadways. Topping out at the federal legal limit, the CrossCurrent X Ultimate Commuter Bike reaches a speedy 28 mph. However, flying this fast for extended periods will greatly reduce the battery range.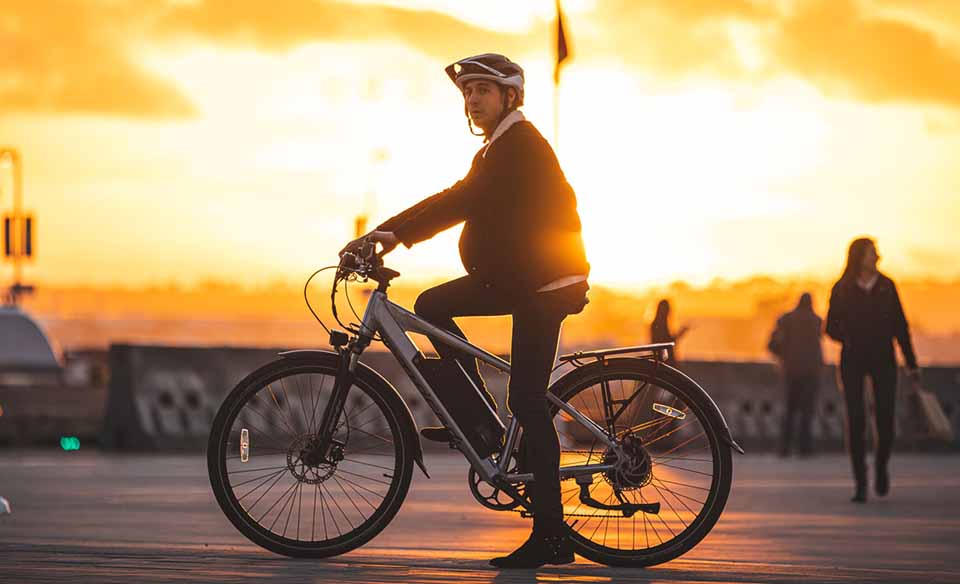 Safe & easy riding + pricing details

These features combine to make for a industry-leading bike. But, the integrated pedal assist levels enhance the riding experience even further. Through one of six assist levels, riders are treated to greater responsiveness and performance. Maintaining traffic-appropriate speeds is easier and safer. The CrossCurrent X Ultimate Commuter Bike starts at $2,500 and arrives mostly assembled. Already costing less than comparable models, Juiced Bikes occasionally offers discounts in addition to their standard 1-year warranty.

Key Features
Max speed: 28-mph
Max range: 80+ miles
Battery: 52V 19.2Ah
Motor: 750W Bafang Geared Hub Motor
Transmission: Shimano Altus 9 Speed
Tires: Schwalbe Marathon Plus 28″x1.75″ 700C
Weight: 65 lbs.
Weight capacity: 275 lbs.
Cadence & Torque Pedal Assist
Thumb Throttle
Rear Rack & Fenders
Advanced LCD Display