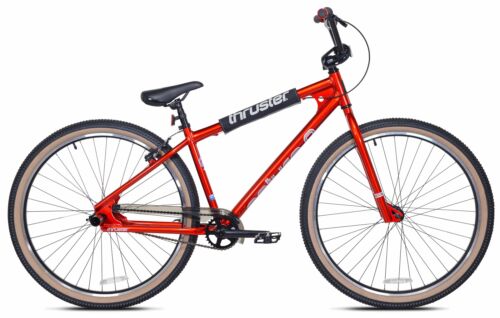 Thruster Saturn 9 29 Inch BMX Bike
Last updated on December 1, 2022 4:19 pm
Add to wishlist
Added to wishlist
Removed from wishlist
0
Add to compare
Thruster Saturn 9 29 Inch BMX Bike
A perfect BMX bike comes with great looks and superb speed. So that you always stay ahead in your race and nothing stops you.
But, very few BMX bikes in the market keep their promises. A BMX bike with great looks doesn't guarantee speed and agility. Hence, you should pick your BMX bike after knowing everything about it.
Thruster Saturn 9 29 Inch BMX Bike – is a marvelous bike with some amazing perks. This bike has sturdy build quality, a stylish design, a lightweight frame, and an ideal BMX bike handle. As a result, this bike runs smoothly leaving everything behind.
Why Thruster Saturn 9 BMX Bike Is An Excellent One?
1) 30 LBS Lightweight Frame
When designing a lightweight frame, good quality alloy materials should be used. Hence, THRUSTER has built this BMX bike using 6061 Aluminum alloy. This alloy has made the bike a strong one. But, at the same time, the bike weighs only 30 LBS. This means, the bike can run smoothly and it can run fast.
2) Robust Design
A BMX bike's forks are really important. Only forks with good strength can endure all kinds of bike stunts. That's why this BMX bike's forks are made of Chromoly. Chromoly alloy is advanced material. So, they are durable and strong.
Apart from that, its alloy hubs and Chromoly cranks make this bike a really sturdy one. Even, the pedals of this bike are made of alloy. Therefore, this BMX bike won't catch corrosion easily.
3) A Super Stylish Bike
The super glossy color of this bike makes it an irresistible one. The bike is available in two colors – glossy red and satin grey. Both the colors with the bike's spectacular design have made it an attractive one. Hence, the bike is really hard to miss.
4) 29 Inch Wheels With Double Wall Rims
Large wheels are good for racing. This BMX bike has got two 29-inch wheels. Consequently, you just don't have to pedal the bike harder. Only a little push can help the bike to move smoothly. Apart from that, the double-wall rims of this bike make it a safe one.
5) Durable Brake
BMX bikes are capable of doing all kinds of stunts. Hence, without good brakes, these bikes may not reflect their safety. This Thruster Saturn 9 BMX Bike has one rear brake that is made of alloy. Alloy brakes are strong and they can last long. Hence, you can use these brakes thousands of times.
6) A Wide and Convenient Handlebar
This BMX bike with a 29-inch handlebar can help you to ride it just like a pro. A wide handlebar never stresses you out physically and you enjoy every single moment on this bike.
Top Features
6061 Aluminum Frame
Chromoly Fork and Crank
Alloy Hubs
16T Free Wheel
29-Inch Wheels
Impressive Looks
A Wide Handlebar (29-inch)
This bike is lightweight and safe. Moreover, the bike has sturdy alloy parts, a padded saddle, a wide handlebar, and great looks. Hence, it's an ideal BMX bike that you shouldn't miss. So, if you want to feel a true BMX bike, then choose this -Thruster Saturn 9 29 Inch BMX Bike. The bike won't disappoint you.
Specification:
Thruster Saturn 9 29 Inch BMX Bike
| | |
| --- | --- |
| Color | |
| Frame | |
| Brakes | Rear Alloy V-Brake |
| Tires | 29" x 2.125" BMX |
| Forks | CHROMOLY |
| Pedal | ALLOY BMX PLATFORM |
| Freewheel | 16T |
| Crank | 170mm 3pc CHROMOLY |
| Hub | 14G 36H ALLOY |
Price History
Thruster Saturn 9 29" BMX Bike - Multiple Colors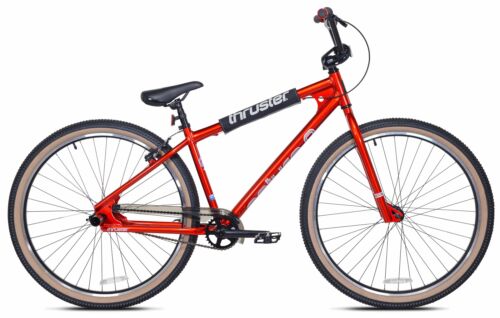 Price History
Statistics
| | | |
| --- | --- | --- |
| Current Price | $329.99 | December 1, 2022 |
| Highest Price | $329.99 | December 1, 2022 |
| Lowest Price | $329.99 | December 1, 2022 |
Since December 1, 2022
Shop 29 Inch BMX Bikes
Latest Posts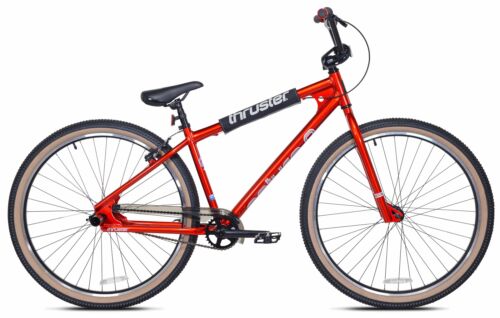 Thruster Saturn 9 29 Inch BMX Bike